The 2021 Youth Tour has been cancelled.  
Each summer, Morgan County REA sends one area student to the National Rural Electric Youth Tour in Washington, D.C.  This year, due to Covid, that experience will not take place in Washington D.C.  It will instead take place here in Colorado and we plan for it to be fun and exciting!!  
Washington D.C. Youth Tour Guidelines
All expenses, including transportation, lodging, meals and all admission fees are paid by Morgan County REA. Students must be 16 years of age by the time of the Youth Tour; must currently be sophomores or juniors; reside within the boundaries of MCREA's service territory; and their parents/grandparents must be MCREA members. Selection is based on an application, essay and interview. One applicant will be sent to Washington Youth Tour, and up to two other applicant(s) are sent to the Cooperative Youth Leadership Camp.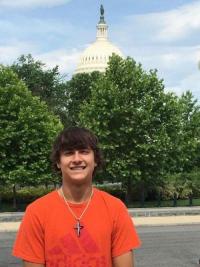 Benicio Mazzuca from Wiggins High School represented MCREA at the 2019 National Cooperative Youth Tour. 
The Youth Tour is an opportunity for high school students to learn about our government in a week of educational and fun events. Students from all over the United States, sponsored by their local rural electric cooperatives, converge to tour the exciting sites around the capital as well as meet with industry and government officials. Approximately 1,500 students attend the event annually.
Before departing for home, a full day is spent on Capitol Hill meeting with the Colorado congressional delegation, even eating lunch in the cafeteria with congressional staffers. In addition, the students are introduced to issues faced by rural electric cooperatives on a state as well as national level.